Andrew "Blaze" Thomas' hard hitting drum style drives the SOBs and grabs the audience at every gig! He is both a song writer and a highly sought-after studio musician because he is such a versatile, skilled drummer. He has played with the who's who of the Blues: Dan Akroyd, Ana Popovic, Lucky Peterson, Ronnie Baker-Brooks, Wayne Baker-Brooks, James Armstrong, Bernard Allison, Billy Flynn, Jason Ricci, John Primer, Corky Siegel, Billy Boy Arnold, Biscuit Miller, Andthony Gomes and Nick Moss, just to name a few.

---

Giles Corey, joined the SOBs after graduating from the University of Chicago in 1997. In 2001 he joined the band of the legendary Otis Rush, staying with him until the elder blues man's disabling stroke. Giles formed his own band, Lubriphonic and released 5 albums. As Giles developed as a songwriter and front man, he sought more of the truth he found in both roots and Blues music, thus hastening his return to the SOBs as both a soulful and riveting guitar player. He continues fronting his own highly acclaimed Giles Corey Band.

---

Mose Rutues Jr.retired in 2016. He was the drummer for the Sons of Blues for nearly 30 years. He
previously played with such legendary greats as Major Lance, Bobby Rush, Mckinely Mitchell, and Joe Tex. His intense energy and unique rhythmic style is the engine that powers the stylistic diversity of the Sons of Blues. His rich, Mississippi voice evokes the emotions of his southern Blues roots.

---

Sumito Ariyoshi, aka Ariyo is internationally recognized for his vigorous innovative piano style. Ariyo is both an accomplished arranger and sought-after studio musician. He's shared the stage and toured the world with such legends as Otis Rush, Jimmy Rogers, Robert Jr. Lockwood, Eddie Shaw, Valerie Wellington, B.B.King, Albert King and Stevie Ray Vaughan.

---

Marvin Little is the newest S.O.B. In addition to being an accomplished bass player, he is a successful producer, having worked with many stars of other genres. His versatility shines in song arrangements and dynamic stage presence. Marvin honors the shoes he has to fill, stating, "Nick Charles can never be replaced, I only hope to carry on his legacy."



---

It is with great sadness that we confirm that Nick Charles lost his courageous 1.5 year battle with cancer on July 2, 2014. He was the griot and big brother to the SOB family. His stories of the old South enlightened us and gave depth to our Blues roots. He was given his first bass guitar and bass amp by Howlin Wolf! In addition, the young Nick was brought to Chicago by Howlin' Wolf and Eddie Shaw. Early on Nick made his mark as the undeniable bass player extraordinaire. He played with Howlin' Wolf, B.B. King, Tina Turner, Eddie Shaw, Valerie Wellington and the Rolling Stones, just to name a few. In fact, you can see Nick on the DVD entitled, Muddy Waters & the Rolling Stones Live."



---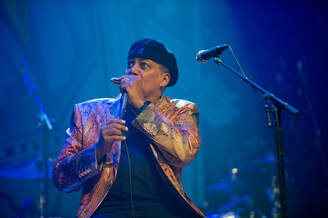 BILLY BRANCH, EMMY AWARD WINNER
3 TIME GRAMMY NOMINEE
RETIRED 2 TERM GRAMMY GOVERNOR
​2020 BLUES FOUNDATION HALL OF FAME INDUCTEE
ALLIGATOR RECORDS RECORDING ARTIST

Billy Branch was discovered by Willie Dixon, the "father of modern Chicago Blues," while Billy was still in college. Willie encouraged Billy to finish his college education, which he did, but instead of going to law school after receiving his political science degree,
​
Billy began touring with the Willie Dixon Chicago All-Stars. This gave Billy the unique opportunity to travel and work as an under study for the legendary Carey Bell who was planning to leave the All-Stars and form his own band. When Carey took his leave, the young Billy Branch took his place, touring with Willie Dixon for 6 years.

Since those early days, Billy has played on over 300 different recordings including 15 albums under his own name. Billy has recorded with Willie Dixon, Johnny Winter, Keb' Mo, Lou Rawls, Koko Taylor, Eddy Clearwater, Honeyboy Edwards, Syl Johnson, Lurrie Bell, Ronnie Baker Brooks, John Primer, and Taj Mahal, just to name a few. Billy has three Grammy Award nominations, having lost one nomination to BB King and Eric Clapton! He served two consecutive terms on the NARAS Grammy Board of Governors and founded the First Grammy Blues Committee. Because Billy's Blues credentials include dozens of years spent working side-by-side with many of Chicago's illustrious Blues musicians of years gone by, he is considered an ambassador of Chicago Blues. In that role he has written the forwards to three books, given numerous U.S. State Department cultural exchanges in other countries, presented keynote speeches (one was for the Obama Foundation), and presented to the leaders of Turkey's Parliament, teaching them to play harmonica! Billy also does commercial voice-overs and has acted in two major big screen movies.

Billy's new release on Alligator Records, ROOTS AND BRANCHES, THE SONGS OF LITTLE WALTER honors the iconic Little Walter, one of the principal architects of the Chicago Blues sound. His band takes Little Walter's classics and embed their unique creative synergy This highly anticipated album includes Little Walter's daughter, Marion Diaz, sharing a few anecdotes of life with her legendary father.

Billy Branch and The Sons of Blues (SOBs) celebrated their fortieth anniversary by headlining the 2017 Chicago Blues Festival. They kept tens of thousands of Blues fans thoroughly engaged for over two hours. It's hard to imagine that the SOBs very first gig was in Germany at the 1977 Berlin Jazz Festival. Over the many years since, Billy Branch and The Sons of Blues have consistently delivered the Blues to fans around the world. During their six week tour of Turkey, thousands of fans showed up every night of the week to experience authentic Chicago Blues. The Sons of Blues have made over 250 international tours, sharing the cultural legacy of the Blues around the world.

Billy Branch is a Blues education pioneer. He was one of the first artists to develop a Blues in Schools curriculum. Since 1978, in addition to recording and performing, he has taught hundreds of thousands of children around the world. His internationally recognized Blues in Schools Program is committed to teaching students of all ages about the Blues as the roots of America's music. His curriculum and instruction strategies open his students eyes to music history, music theory. Students also learn music skills that reinforce music as a positive creative outlet which inspires students to embrace music as a viable creative expression. He has shared his interdisciplinary program in Europe, South America, Australia, Asia, Central America and Mexico where he taught his two week program in Spanish. In addition, Billy has taught in the Grammy Museum Music Revolution Project and lectured at the University of Chicago and other institutions of higher learning. His university level lectures are some of the most popular and well attended classes. Billy brings music history and music theory come alive.


---